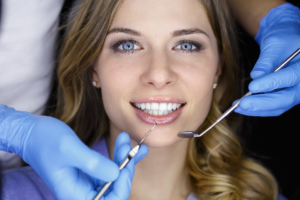 Your oral hygiene habits are important to protecting your teeth and gums from damage, but it is only half of the care you need. To protect your smile from complications, like tooth decay and gum disease, you also need a dentist in Dayton. There are many excellent options in the area, but not all will be right for you. You have unique needs, which constantly change. To ensure that you make the right choice, it is best to choose one who offers complete services under one roof, like Today's Dental.

Professional Dental Services
When it comes time to visit your dentist, you should feel welcomed from the moment that you walk into the office. At Today's Dental, we strive to ensure your comfort and satisfaction by creating a professional and friendly atmosphere. We take the time to get to know you to deliver individualized solutions to help you reach and maintain your oral health goals.
As a general dentist, we offer complete preventive dentistry to help ward off dental complications, like tooth decay and gum disease. In addition to cleanings and checkups, we also provide oral cancer screenings, periodontal therapy, and children's dentistry. To further protect your smile from damage, we offer dental sealants, mouthguards, and fluoride treatments.
Even with the best preventive care, complications can still develop. To restore your oral health, we offer many restorative treatments, including tooth-colored fillings, extractions, and root canal therapy. If tooth loss has occurred, we can help you regain a complete smile with a dental bridge or dentures.
In addition to the health of your smile, its appearance is equally as important. To ensure that it always looks its best, you will enjoy many cosmetic services from our office, such as metal-free restorations and direct bonding.
At Today's Dental, we understand that everyone's oral health needs are unique, which is why we offer many areas of specialty services, including TMJ therapy and sedation dentistry. We will always be there for you, no matter your needs, with emergency services and same-day appointments.
Modern Dental Care You Can Trust
To provide a higher level of care, we embrace the latest technological advancements. With intraoral cameras, digital x-rays, and a cavity detection system, we offer early diagnosis and comprehensive treatment solutions. We strive to provide minimally invasive procedures, like the use of a soft tissue laser, to enhance your comfort with uncompromised results.
Dentist Near Me for Quality Care
If you need a new dentist in the area, get the care you deserve at Today's Dental. We offer all the services you need from one caring location.
About Dr. Michael Allport
For more than 18 years, Dr. Michael Allport has provided comprehensive dental services. In addition to receiving his doctorate, he continued his education by three years to specialize in prosthodontics. Due to his exceptional training and qualifications, he provides the necessary services through all stages of life to promote optimal oral health. If you need a new dentist, contact us today to experience the difference with Today's Dental.